Yellow and grey color pallette tablescape.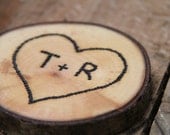 The Tablescape:
Okay peeps, this is where I went a little "bridezilla" on everyone. After choosing our yellow and grey color scheme, I knew I had to have sunflowers, birdcages, lemonade....and the list goes on!
The Linen:

Most people rent linen from a local party supply but we found an awesome deal at:Linen tablecloth.com and decided to purchase the tablecloths and napkins. We purchased white 90 inch round tablecloths and 70 grey napkins at a steal. I highly recommend this websight!!

Flowers:

We purchased some sunflowers from Sams Club online and to our surprise some friends of ours from the Hardy Family Farm chose to bless us with sunflowers also. I must admit the flowers from the farm were exquisite, varied in color and much larger. Anyhoo.... It was such an awesome experience going to the farm the day before the wedding and watch Nancy and Leroy bless us with beautiful flowers plucked just for us!! One of my best memories of the planning process.

Wood Slices:

After seeing tons of wood slice ideas on etsy, at the Wood Lot, I knew I had to incorporate the idea. But the price for a slice of wood was crazy even at Michael's. My husband to be and brother-in- law, out of the kindness of their hearts spent an afternoon sawing wood slices from a log we found after a storm in the area. My hubby to be even bought a wood burning kit to put our initials onto the wood like the picture above. I heart them so much!!! Click here for my Amazon wedding store!!! Wood Slices, birdcages, etc.

Napkin Rings:

Now I knew I needed a punch of color and decided to make our own napkin rings.....I'm telling my mind never stops going. So two nights before the wedding my sister, her husband Trey and I stayed up all night making 70 of those stinkin' tissue paper napkin rings. Can you tell we were a little frustrated at this point?

Famous Couple Table Names:

Finally instead of table numbers we decided to have each table named after a famous couple, hence the photo of George and Wheezie. We also had Napoleon and Josephine, Barack and Michelle, Jada and Will (pre-divorce news), Gomez and Morticia.....okay can't remember them all. But I loved the concept!
Wanted to embrace the beauty of the outdoors so I birdcages filled with Sunflowers in bird cages were our focal point



The Altar:

The Smithfield Center has a beautiful outdoor patio where we decided to have our ceremony. I really am an outdoorsy girl, (I'm tellin ya I would of been bare foot in a field somewhere, that's my kind of thing.) That being said there was little to do in the way of decorations outside. I would of loved to have chair covers, but it was just not in out budget and I figured once people sat in them, they would not be noticed too much anyway. I purchased two standing birdcages, spray painted them white and filled them with Sunflowers. We also had a sand ceremony representing the new blended family. Since it was August I decided to also have galvanized tubs of water available for everyone.
The Menu:
After perusing the internet one evening, trying to come up with ideas for our menu, I stumbled upon
www.bigredkitchen.com
. Wedding food fare has changed drastically from days of the past. Some folks have mashed potato bars, Food Trucks pulling up to the venue with comfort food in minuscule proportions. Well I knew I wanted everyone to be fed a full meal and who doesn't love pasta. So the Pasta Bar idea was born and I ran with it. Of course I had to have quite a lot more than you see here in my inspiration picture, but it was the most economical choice and we had tons of compliments. Basically the concept of a Pasta Bar is choose about three pasta, I chose angel hair, penne and fusilli, two pasta sauces, traditional meat and pesto sauce, grilled chicken, sausage and peppers, meatballs and roasted baby red potatoes. I also had individual family style bowls of Mixed Green Salad with cherry tomatoes and mozzarella balls and Rosemary Olive Oil Loaves for each table. As for the beverages we had Lorina Sparkling Lemonade, classic Mexican Coca Cola in the cool retro bottles and of course bottled water. So for about $600 we were able to feed the masses. Yet again I implore you.......I do not recommend the bride DIY concept. It was surely an experience!
Part four: Finishing touches.....Stay tuned!!!